Coordination between any company's eCommerce site and its back-end inventory and accounting system is known as eCommerce integration. If there is complete integration, data will only need to be entered into the system once, after which the bidirectional flow of information shall take place. For data to be constantly updated across various connected interfaces, one needs to look at suitable eCommerce integration solutions.
Ecommerce integration solutions
Apart from the purchase itself, buyers also wish to engage with brands. They want to know how these brands are shaping trends, and participate in the same. To provide these out-of-the-world experiences, it is important for eCommerce platforms to be integrated with inventory management, marketing and brand strategy, accounting, ERP, and a host of other systems. And this is why modern
eCommerce integration solutions
are required, since legacy platforms cannot handle all these loads at once. A few integration solutions are as follows:
Shopify- This cloud-based solution is able to make business integration and configuration easy for companies. It is also capable of automating all eCommerce processes. 
WooCommerce- This cloud solution is able to integrate with all your ERP applications in order to bring about automation
OROcommerce– Every operational routine task can be digitized with the help of OROCommerce. It can integrate ERP applications with your e-store.
BIGCommerce- Management of bidirectional data synchronization is the job of this solution. This ensures that your IT team is not subjected to too much pressure. Critical data points are integrated here.
All the above solutions are connectors, which means that complete visibility and accurate data with regards to inventory and sales will be displayed by them on a real time basis. Each integrator comes with specific touch points, which help to make business operations operate in sync. The common touch points are as follows: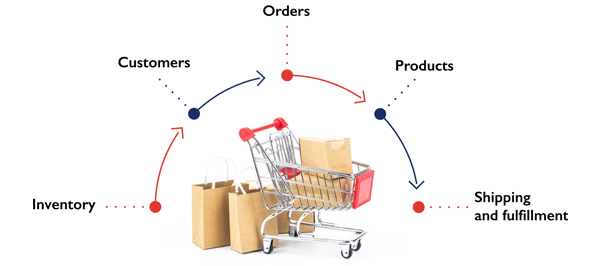 Inventory– The stock of all inventories available across different locations can be seen here. You can even customize stock update formulae for specific updates.
Customers- Structuring and organization of user data helps to target products in a better way and this can be achieved by the integrator.
Orders– Through the integrator, it is fully possible to add flexibility to the order processing and management approach
Products– A range of inbuilt product API's give businesses control over the store's range of products
Shipping and fulfillment– Through this, cart values and shipping rates can be optimized as the customer is proceeding for a checkout. You can even set up a fulfillment app for your store.  
How an eCommerce venture can meet your business needs
Buying anywhere and selling anywhere is the mantra of today's shoppers. They do not want to remain idle in a single place while doing so but want to buy or while selling on the move. Companies have started listening to these demands, and that is the reason for the emergence of eCommerce in a big way. Purchase can be made on any smart device, which could be a tablet PC, a desktop, a laptop, or a smartphone.
An eCommerce business has to work as per current business trends and be able to meet the needs of a dynamic market, or else it may run out of business very soon. For this, it needs to come ahead with bespoke solutions such as eCommerce integration services, which help streamline the venture.
What are eCommerce integration services?
eCommerce integration services are the different backend services which can work in sync with eCommerce in order to provide a seamless shopping experience. Customer interactions between eCommerce and other channels are put together in a 360-degree window, so that there is personalized interaction with the brand. Interaction with different digital marketing tools and personalization software helps deliver a cutting edge experience to the customer.
Shopping experiences can influence brands in both positive and negative ways. eCommerce can integrate with the following services: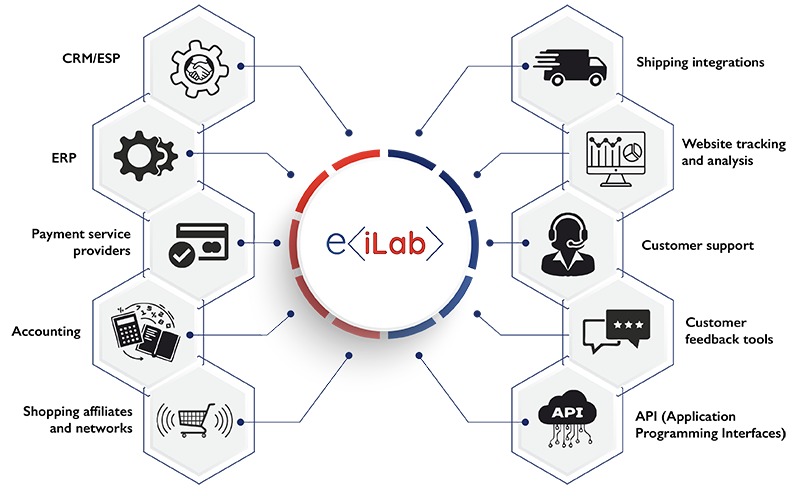 CRM/ESP- You will be abreast of every customer activity with the ERP system which integrates with the eCommerce integration software
ERP– Multiple backend functions and operations can be unified with the help of ERP (Enterprise Resource Planning) Systems. Through this multichannel integration, information such as pricing, product delivery, taxation rates, and others can flow bilaterally.
Payment service providers- It is necessary for Payment Service Providers such as PayPal to integrate with the eCommerce system so that the customer's transactions are processed quickly and simply
Accounting– To make a business client reach the desired level of proficiency, all accounting systems are assimilated together
Shopping affiliates and networks- Want to make your products visible on a larger marketplace? Through integration with huge shopping networks in the world such as Amazon, you can administrate your products here.  
Shipping integrations- Dispatch of customer goods can be automated with the help of integrations with different global delivery partners such as DHL
Website tracking and analysis– In order to know customer pathways and web traffic data, you can integrate with analytics software
Customer support– Chat facilitators allow real communication with customers, but these have to be integrated with the eCommerce integration software first
Customer feedback tools- Integrate with definitive feedback tools to share ratings from them
API (Application Programming Interfaces)- An enhanced User Experience (UX) can be gathered storing and converting website data into statistics
When a company acts as an eCommerce integrations provider, it means that it is the one which provides IPAS (Integration Platform As A Service) for eCommerce and service integration, an example of which is ERP. The objective of a reputed eCommerce integrations provider is to make end-to-end business operations simple, making rapid business growth possible.
Making eCommerce into an omnichannel experience
It is simply not possible for eCommerce to exist as an independent entity.  It needs to take leverage of cloud-based integration in order to meet customer expectations for superior omnichannel commerce across all eCommerce platforms and services. Here, the simplest way of defining omnichannel retail is to be able to offer the customer an integrated shopping experience.
The integrated experience is a sum total of eCommerce mobile app, shopping online, and shopping at a physical store. It ultimately boils down to the depth of the integration. Attractive social media, visually appealing but functional campaigns, and a gorgeous website have to work in tandem to give a seamless experience to a customer. Unfortunately, many companies today are floundering on this front and there is tremendous scope for eCommerce integration.
How cloud integration is highly suitable for eCommerce integration
When highly scalable IT capabilities are made available as a service to multiple customers through Internet technologies, it is known as cloud computing. eCommerce platforms have been able to benefit tremendously through the cloud, which is why integration providers have chosen cloud-based integration. Clouds help eCommerce in the following ways:
Increase speed– To retain the customer's attention, it is very important that there is speed in selections and in the business transactions. A web page that takes more than a few pages to load is usually abandoned by Internet users. This is certainly a field where 'Speed thrills but does not kill'.
Make businesses scalable- Cloud integration allows the eCommerce platform to cater to the varying needs of the market and customers. Services can be downscaled or upscaled as per changes in season, traffic and demand. The cloud is the scalable architecture that your eCommerce business really needs. 
Availability of redundancy– Cloud architectures are built to be able to withstand disasters. The cloud platforms are able to back up data, keep it secure and ensure easy accessibility of data. Thereby, a business can be saved from massive losses due to this system. In the event of a major threat, redundancies are able to save the business and enable it to resume in a streamlined fashion. 
Bring down costs- The cloud gives you the ability to work on a pay-per-use model. With a cloud, the cost of development and maintenance of IT infrastructure goes down in a big way. It is not necessary to invest in software or hardware infrastructure as the business grows.
Advantages of eCommerce integration
A customer can navigate on the app or website in a hassle-free manner and move towards purchase
Information from different channels is available in a centralized manner
Accurate and consistent data can be obtained through the automated processes
Due to eCommerce integration, no human intervention in data export and report preparation is now required, thereby eliminating the chances of errors
With the help of inputs from real-time data, business owners now understand when to migrate inventory from inventory from one location to another, thanks to integration
Integration tells you exactly how to market in different regions, thereby impacting customer experiences and sales in a positive manner
If multiple eCommerce platforms are involved, integration can easily synchronize data among them
In today's time, there is no better way to boost one's company's product offerings than to use an eCommerce platform. Various companies in this sphere provide customer centric solutions to help companies grow manifold.
Custom eCommerce integration solutions
Custom integration allows the customer to choose the solutions he or she wants to combine. For example, there are some who may want CRM integrations between eCommerce and Zoho CRM. Simiarly, there are others who may be looking at ERP integrations between SAP ERP and eCommerce. The best integration solution companies can make these customizations possible, and thereby help increase business for their customers. 
 It is the job of an e-commerce development and integration solution firm to help companies merge their existing services software suite with eCommerce platforms. Some of the eCommerce platforms currently operational in the market included BigCommerce, Shopify, and Magento. Connector apps such as Amazon are available for eCommerce websites for companies to effortlessly import products from their Amazon to their eCommerce accounts. This helps enhance the functionality of an eCommerce platform, thereby maximizing customer satisfaction.
Customer satisfaction is the primary requirement at eCommerce iLab, which delivers the best integration solutions in the market on the basis of in-depth research and study.  They strive to create value at every step of the company's journey. Everyone at eCommerce iLab operates with the utmost professionalism and dedication, making it easy for any client who comes their way.